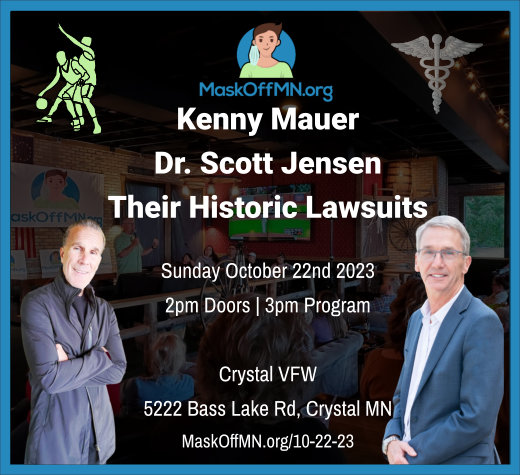 Kenny Mauer, Dr. Scott Jensen and Their Historic Lawsuits
Join us for an unprecedented event with Dr. Scott Jensen and Kenny Mauer. Dive into their ground-breaking lawsuits that are reshaping the future. You might already be familiar with Dr. Jensen's fight against the MN attorney general's office for a data practices violation and his battle with the MN medical board over 1st amendment rights.
But, have you heard Kenny Mauer's story? The beloved NBA referee was forced into early retirement over mandates, despite not missing a single game in nearly 40 years. Now, Mauer is suing the NBA in a federal court for holding his pension hostage.
These potentially precedent-setting cases need your support. Be a part of the change and stand with us as we fight for justice.
Mark your calendars for October 22nd at 2pm at The Crystal VFW. No Vikings game that day, so no excuses. Be there to support these gentlemen in their fight for justice.
Donate to Scott Jensen Lawsuits